What is Gymkhana?
This fantastic feature made an appearance at the Classic Bike Guide Winter Classic for the first time in 2019…and will be back for 2020!
Situated outside the Main Hall – we're encouraging our visitors to book on to have a go at the event; it really will make for a fantastic day out!
Described as the "grassroots motorcycle sport for everyone" Moto Gymkhana is a riding skills challenge involving quick changes in direction, bursts of speed, ruthless braking and accurate control. Ridden against the clock, the obstacle courses are designed to test the rider and not the bike, so can be done on ANY roadworthy motorcycle or scooter.
Pioneered in Japan over 30 years ago, Moto Gymkhana is a great way to compete, have fun and improve your technique, making ordinary motorcycles do the extraordinary.
Once you've tried Moto Gymkhana you won't want to stop – it constantly challenges the rider and helps you discover your true boundaries.
Whether it's the elegant simplicity of the GP8, a World Challenge (where you compare your skills with other riders around the world), or a full class qualifying competition to move yourself through the rankings, it will reconnect you with the sheer fun of riding a bike.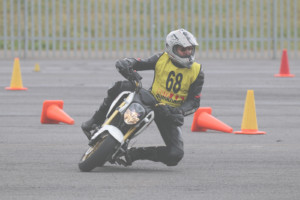 "It's the most exciting, safe sport you can do on a motorcycle that teaches you more about bike control than years of road riding" – Matt Hull, Classic Bike Guide Magazine
"Fun and friendly, yet challenging and competitive. Moto Gymkhana is a great sport; I love it!" – Jo Noble-Finch (UK)
To take part, you MUST book in advance with Moto Gymkhana (details below) and bring the following:
Your full riding gear
Your licence
Slots available on both Saturday and Sunday:
10am x 3 people
10:30 x 3 people
11:00 x 3 people
11:30 x 3 people
12:00 x 3 people
__
13:30 x 3 people
14:00 x 3 people
1430 x 3 people
When spaces are gone, they're gone! For more information, and to book your slot, please visit: motogymkhana.org/uk/