OUR 2024 GUESTS OF HONOUR ARE…
TREVOR NATION AND BRIAN CRIGHTON!
Two of Norton's true icons, Trevor Nation and Brian Crighton, join us at the show for a fun-filled weekend which gets 2024 off to a cracking start. Both these very special guests are synonymous with the Norton brand, having once been a crucial part of the team's resurgence in the late 1980sand early 90s culminating in both the 750cc Supercup Championship and the British F1 title.
Achieving glory during their time together helped transform Norton from a period of struggle towards a few brief years of success that blew away the racing community. Having joined Norton in 1984 as a service engineer, Brian became a huge part of Norton's introduction to the racing world. He was promoted to the research and development team and it was there that he began a project that was initially met with unease amongst colleagues. However, he persevered, and working from the caretaker's shed he was able to defy the doubts of many peers and in doing so develop the first Norton rotary race bike.
Ensuring this bike's progress was not easy though as doubts were still present until he was able to get the bike going 170mph at MIRA. This proved a turning point in the emergence of Norton as a racing phenomenon, as the company was now willing to back him in the development of a new racer, the Norton RC588, which came third in its debut race back in 1987.
Spurred on by this early development, new riders signed up, with Trevor Nation being one of those to join the team and help bring a series of great wins at Mallory, Cadwell, and Darley Moor. Further success came with the John Player Special RCW588 racing machines, with Trevor proving vital to this, having hit the ground running with further wins in the proddie class on both 750cc and 1000cc machines.
That helped to earn him a seat on the factory Norton team which got its first win at Cadwell Park in 1988 on the development bike, the RC588. But all good things come to an end, right? Fast forward to the early 1990s and things started to change. Brian packed his bags in September 1990, and Trevor followed suit just over a year later in 1991.
By then, improvements were not able to resurrect the racer, and in doing so, the Norton Rotary racers' success finished, with the rotaries no longer able to compete due to regulations brought in midway through the decade.
Ultimately though, this would not stop Brian from honing his craft even further with further rotary machines developed over the following decades. In doing so, his latest masterpiece, the CR700W, was created. Capable of producing 220bhp and powered by a unique 690cc twin-rotor engine, this incredible machine will be on display for all of you to see. It's a beautiful thing to behold and is well worth a closer look.
It's a weekend not to be missed, so why not join us in welcoming them to Newark.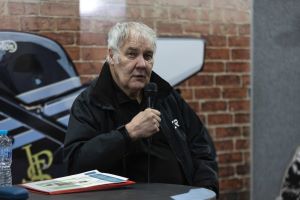 Our 2023 guests were … Carl Fogarty and James Whitham!
Carl Fogarty and James Whitham took center stage at the Classic Bike Guide Winter 2023 show back in January, and with each man never shy to say what they thought, there was plenty of opinions, memories and racing insights of both modern day and 'back in the day' racing.
Previous Years…
In the past we have had some seriously big names at the show, including Frankie Chili, Freddie Spencer, John McGuinness, Alex Lowes, Michael Rutter, Jamie Whitham, Roger Marshall, John Reynolds and the Birchall Brothers!
All the above have been interviewed by our resident compere and local racing star, Steve Plater. You can expect live talks on the Main Stage, autograph opportunities and the chance to get a photo with the star of the show too!