Classic Bike Guide – Workshop Wisdom!
Classic Bike Guide explores the world of classic motorcycle ownership and restoration. Beautiful photographs illustrate reviews of rare machines and profiles of the best British bikes of yesteryear. Legendary characters from the glory days of motorcycling and the powerful machines they rode are celebrated too and today's finest restorers and rebuilders discuss their intricate work. Seldom seen and previously unpublished pictures from the vast Mortons Archive offer an unrivalled insight into the history of motorcycling and there's all the latest news. CBG also offers views from our knowledgeable and occasionally cantankerous columnists, detailed workshop guides, event reports and road tests.
You can find the current issue and a selection of back issues for sale at the event, plus there will be fantastic deals on subscriptions too!
January's Newark event is backed by Classic Bike Guide magazine. CBG is the magazine of the post-war classic era (that's 1950s onwards) and as such our January weekend reflects the soaring popularity of these types of machines.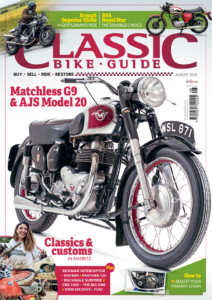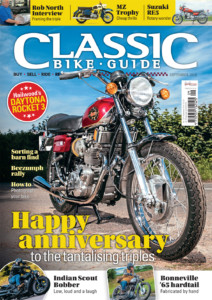 Classic Bike Guide, the ultimate classic motorcycle magazine featuring iconic bikes spanning more than a century from all around the world. Every month we include in-depth features, historical reviews, hands-on rebuilds, tech tips, quick spins and riders' lives. Buying a classic? Then start with CBG, because essential buying guides are a big part of what we do, with advice from industry insiders as part of the package – plus there are marque histories and model profiles. Reflecting the popularity of such machines, we also dedicate pages to concours classics, café customs, brats, bobbers and hi-tech trackers. This is highly recommended reading for all distinguished gentlefolk.