Following a successful year of sales at its Bicester Heritage base – with a 93 per cent sale rate – Bonhams Motorcycles is returning to Stafford for the first auction of 2021. The Summer Stafford Sale will take place on 3 and 4 July, in line with the rescheduled International Classic MotorCycle Show. 
Consignments are now invited to the auction to join early confirmed lots including two important collections, one of Italian sports bikes and the other a selection of classic Vincent-HRDs, the world's fastest motorcycles of their time.
THE RON CODY COLLECTION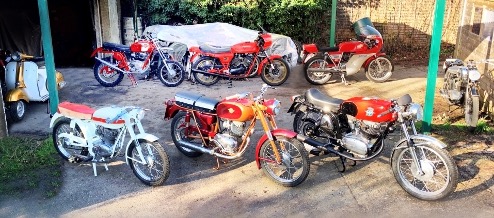 A selection of motorcycles offered from the Ron Cody Collection 
Well-known in MV Agusta club circles, the late Ron Cody, a former sports car racer and engineer, turned to his passion for building up and restoring his collection of Italian machines as a retirement hobby. This collection offers 48 motorcycles, with many examples of MV Agustas as well as other Italian marques. Highlights include: 
1964 MV AGUSTA 150CC RAPIDO SPORT, £3,000 – 4,000
Like their larger siblings, the small MVs were very expensive, costing as much as a British 500, which explains why so few of these exquisitely engineered little motorcycles were sold in the UK. This 150 Rapido Sport displays a total of only 125 kilometres on the odometer since restoration.
1953 MV AGUSTA 125CC TEL 'SPORT COMPETIZIONE', £4,000 – 6,000
With superb engineering compared with any British contemporary, the MV Agusta's 125cc TEL 'stroker' of 1949 was powered by a neat unitary construction single-cylinder engine which, somewhat unusually for a post-war design, featured detachable transfer ports. The 125 MV offered here is presented in Competizione specification, intended for Italy's popular long-distance races such as the Milan-Taranto and the Moto Giro d'Italia.
C.1958 GILERA 175CC ROSSA EXTRA RACING MOTORCYCLE, £2,400 – 2,800
Throughout the early 1950s, Gilera's racers made the headlines, taking six individual World Championships and five manufacturers' titles. Its road bikes paid the bills, with the 175cc being a top seller, although its high price abroad made it a relatively rare sight outside Italy. Introduced for 1957, the Rossa Extra was essentially a deluxe version of the 175 Sport. Apparently cosmetically restored and very nicely presented, this Rossa Extra racer features a Scitsu tachometer, Dell'Orto UBF24BS carburettor, Ceriani forks, and ventilated brakes.
1958 PARILLA 175CC SPORT, £4,000 – 7.000 
One of the first Italian motorcycle manufacturers that went into production after the Second World War, Parilla introduced the 'high cam' (camme rialzata) model, for which it is best remembered, at the 1952 Milan Show. This 175cc single-cylinder motorcycle featured a chain-driven camshaft mounted on the side of the cylinder head, the valves being operated via short pushrods. Stunningly beautiful, Parilla's production racer was also exceedingly quick.
AN IMPORTANT VINCENT-HRD COLLECTION
A stalwart of the golden age of British motorcycles, the Vincent marque is synonymous with design innovation, engineering excellence but mostly record-breaking high performance.
1951 Vincent-HRD 998cc Black Shadow, estimate £60,000 – 75,000
Leading this important collection of Vincent-HRDs is a matching numbers 1951 Series C998cc Black Shadow, an example of the marque's most famous model and the first genuine two-miles-per-minute production bike, with a reputed top speed of around 125 mph.
Off the road for 40 years, the motorcycle was completely restored by the vendor over a four-year period, with the result being judged 'Best in Show' at Stafford in 2010. Having since been displayed at the Lakeland Motor Museum, the Shadow is offered with a continuation RF60 buff logbook dating from April 1963 and the original registration number 'LOV 579'. Estimate: £60,000 – 75,000.
Lining up with the Shadow is a loving recreation of its racing sibling, a Vincent HRD 998cc Black Lightning Evocation Special. Only 31 Black Lightnings were produced between 1948 and 1952 and their value reflects their rarity – Bonhams set a world record for the model in 2018 when the ex-Tony McAlpine, Jack Ehret, Australian Land Speed Record Breaking example sold for $929,000 (£656,630). 
The vendor decided to create this Evocation for parades and track days. Buying a quantity of engine parts and main frame components in 2003, he embarked on a three-year project, restoring the rolling chassis himself, while entrusting the engine rebuild, to Black Shadow-plus specification, to well-known Vincent exponent Mick Ruocco. 
Completed in 2006, it was commissioned by John Renwick, who made adjustments to the carburetion and started and ran the bike on his dynamometer. The Lightning was voted Best Classic Racer at the TT 2006 Lap of Honour and judged Best Classic Racer at the 2006 Stafford Classic Motorcycle Mechanics Show. It has since completed many closed-road parades at the TT and Classic TT and was used the machine regularly until 2014, when it was put on display at the Lakeland Motor Museum. Estimate: £30,000 – 40,000.
1937 Vincent HRD 498cc Comet Series A, estimate: £35,000 – 45,000
The rare Series A was the first model to use the Philip Vincent-designed engine, with high-camshaft layout. This example also underwent a complete restoration, from rebuilding the engine and gearbox to refurbishing the petrol tank. The restored Comet was awarded Best Post-Vintage machine at the 2009 Stafford Spring Classic Motorcycle Show. Covering a mere 100 'shake down' miles since restoration the bike has, for the past decade, been displayed at the Lakeland Motor Museum. 
Ben Walker, International Department Director for Bonhams Collectors' Motorcycles, said: "We are looking forward to coming home to Stafford and hosting the UK's longest established dedicated motorcycling auction in a live format again, subject to the local restrictions relating to Covid-19."
"Entries are coming in thick and fast and with two important collections already in place, we are sure there will be much interest. As we'll be heading into summer, the auction will provide the perfect opportunity to buy a classic motorcycle and enjoy post-lockdown freedom of the road."