The 25th Carole Nash Classic Motorcycle Mechanics Show was once more another great success with crowds flocking to Stafford showground over the weekend of the 13 -14 October.
The big news of the show came from Bonhams who produced a record-breaking sale achieving £3.4 million! The star of which was the ex-C.F Edwards, 1925 Brough Superior 981cc SS100 Sand Racer Project, which despite being completely dismantled, achieved more than double its estimate and sold for £264,500 – the highest amount ever achieved for a dismantled Brough Superior!
James Stensel, Head of Bonhams Motorcycle Department UK said, "Once again, the Bonhams motorcycle department has achieved exactly what it set out to – to sell the best machines on the market at the best prices. Our realistic estimates attracted bidders from across the globe, and bidding throughout was incredibly lively. We are absolutely thrilled with the results of the sale, we look forward to our Spring Sale in April and continuing to consign the widest possible range of top machinery and automobilia."
Bike fans had plenty to get excited about at the show, including for the first time in the history of Cagiva, a stunning display of 11 of the red racers being displayed in one place! The machines, part of the collection owned by Dean Simpkins and his father Martyn, are all genuine factory racers, ridden by some of Grand Prix racing's greatest riders, including the Eddie Lawson and John Kocinski 500cc race-winning bikes.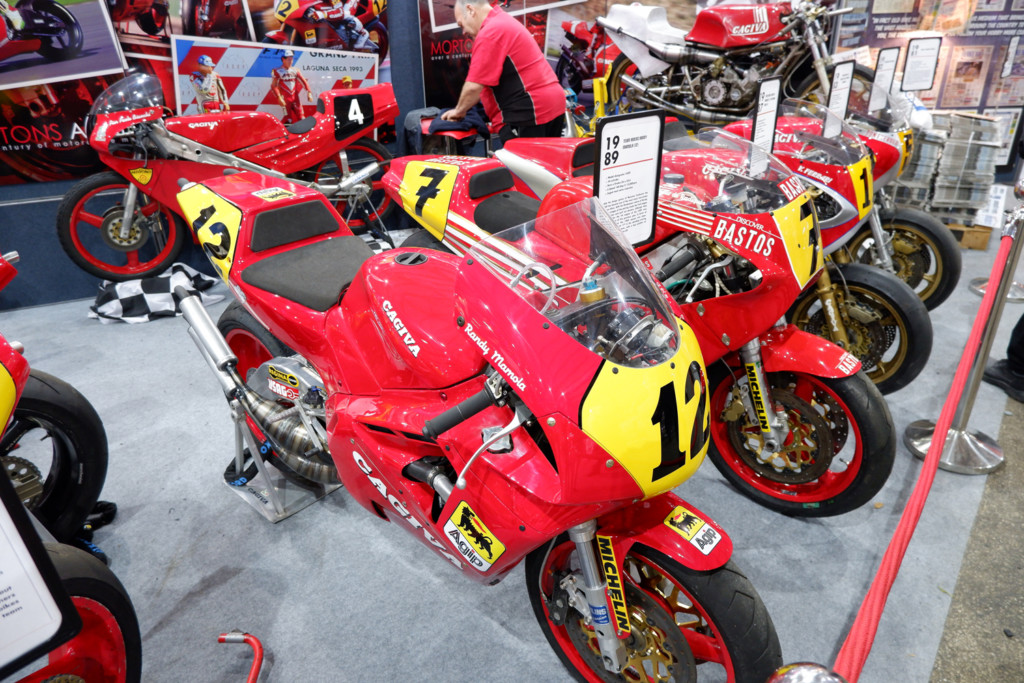 Exhibition Manager Nick Mowbray said, "Once more we've had a great October show here at Stafford. With the addition of a brand new Off- Road Hall, the famous Classic Racer GP Paddock, along with stunning bike displays and the wonderful and expansive mix of club stands, there has been something for everyone and we look forward to returning next April."